While we know Black history is 365 days a year, here are just a few events you may want to take part in this month that celebrates Afro-diasporic culture and educates on Black history if you're nearby.
---
San Francisco

LECTURE | Music of New Orleans & the Caribbean with Dr. Teodross Avery
When
February 22, 2018 @ 7:00 pm – 8:30 pm
Where:
Museum of the African Diaspora
Summary
The sound of the music electrifies people from all over the world helping to celebrate Carnaval throughout the Caribbean and its diasporas. Come celebrate with Dr. Teodross Avery as he takes you on a journey of the music: including Soca of Trinidad, Samba of Salvador de Bahia, Zouk of Guadeloupe, Mardi Gras' of New Orleans, and Calypso of Brooklyn.
Philadelphia
A Look at the Harlem Renaissance: A post-slavery celebration of freedom and hope
When
February 21, 2018 11:00 a.m.
Where:
The Free Library of Philadelphia
Summary
A lecture on the Harlem Renaissance, a conversation with author Brittney Cooper about her book Eloquent Rage: A Black Feminist Discovers Her Superpower, a screening of the film Paul Robeson and more exciting events are lined up for Black History Month at public libraries across Philadelphia.
Baltimore
When 
February 03, 2018 – February 25, 2018
Weekly on Sunday, Saturday, 1:00 p.m. to 2:30 p.m.
Where
USS CONSTELLATION Historic Ships in Baltimore
Summary
The Historic Ships in Baltimore is proud to offer our To Catch a Thief tour at 1 PM every Saturday and Sunday in February for Black History Month. You'll join our educators as they retell the narrative of the USS CONSTELLATION's role in fighting against the international slave trade and her capture of the slave ship CORA. Participants will perform hands-on programs to learn how CONSTELLATION sailed and fired her guns to stop CORA and other vessels. This tour is included with all general admission tickets. Meet on CONSTELLATION's top deck to join in the experience!
New York
Black History Month at the Schomburg Center for Research in Black Culture
When
Feb 2-Feb 28
Daily
Where
Schomburg Center for Research and Black Culture
Summary
he month kicks off with a celebration of the Center's history with an "Afro-Latino Edition" Edition of First Fridays (February 2) that honors Arturo Schomburg's Afro-Latino heritage and dedication to collecting materials that celebrate the African Diaspora experience. Their Black History Month celebration continues with a Carnegie Hall Neighborhood Concert featuring Valerie June (February 5) and  a screening of An Opera of the World (February 6). February 13 is a day-long celebration of Alain L. Locke with an open archive focusing on his Harlem Renaissance work and a book talk and signing featuring The New Negro: The Life of Alain Locke by Jeffrey Stewart. The month closes with a panel discussion about the Harlem Riot of 1964 (February 21), an evening of Bethann Hardison in Conversation with Harriette Cole (February 22), and Theater Talks: Theater-In-Black In Harlem (February 26).
Atlanta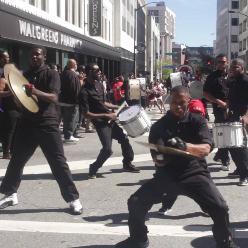 When
February 24, 2018 1 pm
Where
Sweet Auburn 145 Auburn Avenue Atlanta, GA 30303
Summary
The Black History Month Parade features groups participating from right here at home in the downtown Atlanta Sweet Auburn district such as Frederick Douglas, Towers and Greenforest Schools and as far away as Nigeria, South Africa and Benin, West Africa, Nassau, Bahamas, which showcases the award winning Legends Marching Band, the Infinity Marching Band from Baltimore, Maryland, as well as community groups from California, Florida, the Carolinas, Alabama.