There are certain movies that will always be special to the Black community, and these 7 films are no exception. Whether they air on television or you catch it on Netflix or Redbox (do people still rent DVDs?), whenever these movies come on, Black people everywhere will drop what they're doing to watch. Here are our picks.
Boyz n the Hood
I doubt there's a Black person in America who hasn't seen Boyz n the Hood (1990), however, if you're not Black, the film is a coming of age drama that takes place in the early 90's in the Crenshaw section of L.A. Directed by John Singleton, Boyz n the Hood is centered on "Trey" , a young boy who finds himself getting into trouble in school. Eventually, his mother determines she is unable to raise Trey into the man she wants him to become, so she sends him to live with his father.  Boyz n the Hood follows Trey from adolescence to young adulthood, as he grows up in the "hood" surrounded by bad influences while striving to become a good man. With an all-star cast that includes Cuba Gooding Jr, Lawrence Fishbourne, Angela Basset, Ice Cube, Nia Long, Morris Chestnut and more, Boyz n the Hood has no doubt solidified itself as a cultural classic in the Black community.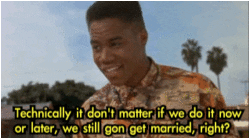 Friday
Friday (1995) is a comedy that continues to get major airplay in Black households everywhere.  With fan faves Ice Cube and Chris Tucker in the starring roles, Friday is another film that when it comes on, you have to sit down and watch it (even if it's the horribly edited version on BET).  From the litany of quote-ables like "Bye, Felisha" or "You just got knocked the *bleep* out", to all the hilarious shenanigans "Smokey" (Tucker) and "Craig" (Ice Cube) get into, Friday is one film that will always be funny.
Set It Off
Set It Off (1997) is unique because it brings an alternative view of Black women to film that isn't often seen. Who would've thought of making a movie about four Black female friends who come up with the brilliant  horrible idea to rob a few banks and make some easy money, while dealing with loss, poverty, racial injustice, misogyny, and love? Oh yea, Kate Lanier and Takashi Bufford, that's who.  Directed by F. Gary Gray and starring Queen Latifah, Jada Pinkett-Smith, Vivica A. Foxx, and Kimberly Elise, Set It Off is the story of four friends who make bad decisions that result in repercussions none of them expected. It shows what good people will do when they run out of options, but most importantly it shows how difficult it is to be a Black woman in America. Set It Off is funny, rewarding, sad, and enlightening–all reasons why it continues to resonate with Black people today. (By the way Girls Trip (2017) is totally the women of Set It Off in an alternate timeline).
Menace II Society
For some reason, Los Angeles tends to be the setting for a lot of these "hood" films from the 90s.  Menace II Society continues the tradition.  The film is set in the Watts neighborhood of southern LA in the early 90's. The film stars Tyrin Turner, Jada Pinkett-Smith, Samuel L Jackson, and Larenz Tate, and was the directorial debut for Allen and Albert Hughes (The Hughes Brothers). The film follows young "Caine" (Turner) who deals with the all too familiar trials and tribulations many young Black men in the hood can relate to. From being in the wrong place at the wrong time to deciding between life in the streets or life on the straight and narrow, Menace II Society is a coming of age tale that continues to be relatable to Black people more than 20 years later.
Love & Basketball
Guess what?  This film takes place in LA too, but unlike the others, this film is a love story.  Love & Basketball (2000)starring Sanaa Lathan and Omar Epps, is about two friends who grow up next door to each other and who eventually become lovers of basketball and each other.  The movie chronicles the ups and downs of their relationship and sheds a light on the double standards that apply to female athletes. Love & Basketball is definitely a hood classic, and to this day, Quincy (Epps) and Monica (Lathan) continue to be #relationshipgoals.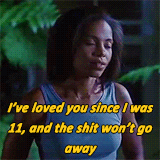 Bad Boys
Bad Boys was released in 1995 and starred both Will Smith and Martin Lawrence at arguably the height of their careers.  A change from the typical hood drama, Bad Boys showed Black men in a different light placing them in authority roles as policemen, as opposed to the criminals many Black actors portrayed at the time.  From Lawrence's humor to Smith's charm, both actors' characters will go down in history as one of the best on-screen cop duos of all time (in our books at least).
While we know this is hardly all of them, these are just a few that we knew would spark some nostalgia. So which ones are your faves?