It's less than a month into the new year and Black people are already making major moves to secure the bag, extend our legacies, and be overall great.  Here are a few highlights of said greatness from the past couples of weeks.
Oprah Winfrey
Auntie Oprah is no stranger to greatness. In fact, at this point, she's probably surpassed the greatness meter and has evolved into the ethers of galactic admirability. This is why her latest accomplishment as the first Black woman to receive the heralded Cecil B.DeMille award at the 2018 Golden Globes is no surprise, and truly appropriate. In typical Oprah-esque fashion, Oprah's acceptance speech was the highlight of the night, with quote-ables such as, "In my career, what I've always tried my best to do, whether on television or through film, is to say something about how men and women really behave. To say how we experience shame, how we love and how we rage, how we fail, how we retreat, persevere and how we overcome. I've interviewed and portrayed people who've withstood some of the ugliest things life can throw at you, but the one quality all of them seem to share is an ability to maintain hope for a brighter morning, even during our darkest nights. So I want all the girls watching here, now, to know that a new day is on the horizon! And when that new day finally dawns, it will be because of a lot of magnificent women, many of whom are right here in this room tonight, and some pretty phenomenal men, fighting hard to make sure that they become the leaders who take us to the time when nobody ever has to say "Me too" again."
Sterling K. Brown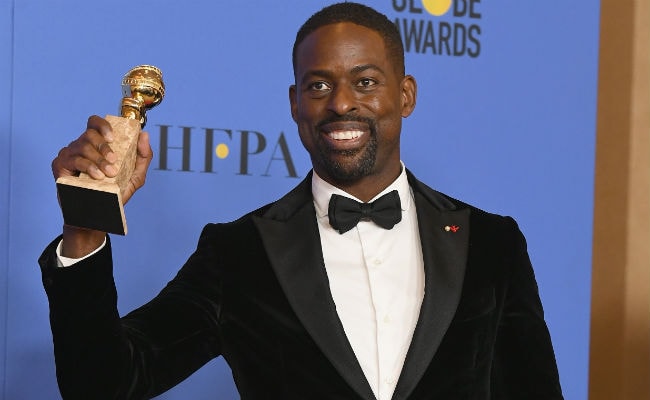 2018 is starting out to be a year of excellence for Black people. That's why we couldn't be prouder when actor Sterling K. Brown became the first Black actor to win a TV Drama Award at the Golden Globes for his role in This is Us. Like the character he plays on the show, Randall Pearson, Brown exudes qualities that shines a light on the many facets of Black men, detracting from the negative portrayals that are often shown of Black men in media.  If this sort of greatness is what we can expect from 2018, we're more than ready for all that's in store.
Essence
As 2017 was coming to an end, Essence Ventures, an investment group spearheaded by Richelieu Dennis, the founder of Sundial Brands, was making moves behind the scenes to return Essence to its status of being a 100% Black-owned company.  In an announcement made on January 3, 2018, Essence Ventures, LLC announced its acquisition of Essence Communications, Inc. from Time Inc. In addition to the acquisition, it was also announced the new owners would be keeping the all Black-woman executive team intact and they would also acquire stakes in the company. This is definitely a major win for Black media and for the culture as a whole.
Jay-Z
Shawn "Jay-Z" Carter is no doubt one of the most legendary hip-hop artists and businessmen on the planet, and his dedication to Black culture and overall commitment to uplifting the Black community is visible through both his philanthropic and business decisions.  We were recently given an example of his passion for the Black community via the signing of Penn State's Saquon Barkley, the latest addition to his Roc Nation Sports roster and the number 1 running back pick in the 2018 NFL Draft,  Throughout the years, Jay-Z has made it clear that when he signs players to his agency it's less about the money and more about ensuring they have the tools to maintain their wealth and grow it for generations to come.
Based on these past few weeks alone, it looks like this year will be super lit, and all we know is we're taking notes and basking in the greatness of it all.